Basic Aztec facts: AZTEC HOUSES
Your 'average' Aztec house was plain and simple, whether you lived in a town or the countryside... One story high, one main room, a rectangular hut with an open doorway (onto a patio), the house backed onto the street...

(Written by Ian Mursell/Mexicolore)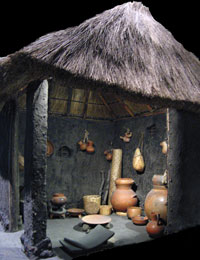 Pic 1: The inside of a reconstructed Aztec house (Click on image to enlarge)
No chimney, no windows, the floor was usually of earth (sometimes stone), and the walls either 'adobe' (dried mud bricks), 'wattle and daub' (wooden strips woven together, covered in cheapo plaster) or (if you were better off) stone - or a mix: adobe bricks on stone foundations. In towns the outside walls were often whitewashed.
The roof was thatched and sometimes 'gabled' (see pic 1) or (in towns) low and flat (see pic 2).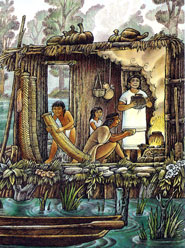 Pic 2: An Aztec house in the suburbs of Tenochtitlan (Click on image to enlarge)
The main room was just for sleeping and eating: no-one spent much time there during the day. Lighting was by small flaming torches (made of pine resin) - and from the fire, in the centre of the house.
Sometimes - if you weren't TOO poor - the kitchen was separate, in the courtyard, which you shared with neighbours.
Pic 3: A model of a traditional peasant's house in Mexico: notice the sweatbath! (Click on image to enlarge)
Close by the house would be the sweat bath (like a sauna), shaped like an igloo (but HOT!) - see pic 3. Then you might have small turkey houses, maybe even bee hives...
Furniture? Think: reed mat bed, wooden chest, broom, digging stick, tools, seed basket, loom, hunting/fishing gear, water jar, pots, grinding stone, griddle, and a little altar.
---
---
---

Here's what others have said:
33

At 10.40am on Monday March 1 2021, Richard wrote:
Hey Mexicolore! I have a question for you guys. I have been always asking myself if Aztec children like the rich and poor ever were able to hang out with each other. Were they?
Mexicolore replies: Good question! Probably only at school. Everyone went to school. The best chance to hang out together would be in the evening, when all youngsters, from both élite and 'regular' schools, went to the 'Cuicacalli' (House of Song) for music and dance 'education' - and for generally making friends...
32

At 5.17pm on Wednesday November 18 2020, Zi Rock wrote:
Did they live in different kinds of houses at different times of the year.
Mexicolore replies: Not that we know of, no. They weren't a nomadic people (except at the very start of their migration from their ancient homeland of Aztlan).
31

At 11.23am on Tuesday September 15 2020, Noah Stephens wrote:
Hey the houses seem more like huts built with leaves. I'm more in a place where I'm thinking if I can build a house with clay on top and leaves only on the top. Also were the houses close together or far apart. Than you!
Mexicolore replies: Generally close together, grouped round communal courtyards.
30

At 1.50pm on Wednesday May 6 2020, Schellbi wrote:
When were they able to build their houses? was it during a certain time? and where did they build them?
Mexicolore replies: Good questions. We imagine they could only have built - and repaired - houses in the dry/winter season (starting in November) - though this was also the war season for the Mexica, so presumably the neighbourhood ('calpulli') council would have to have given special permission for the construction of a house, to excuse the men involved from military service. The dry season was generally the time of year when men were less busy in the fields, and they were obliged to give some of their work time at that time of year to the community, for tasks like repairing agricultural terraces or irrigation channels.
29

At 11.55am on Wednesday December 18 2019, Garrett wrote:
can you tell me more about human sacrifice and the aztec temple?
28

At 4.33pm on Friday December 14 2018, Luke wrote:
Besides the large altpetls, what kind of settlements did they have? Were there Aztec villages or hamlets, small towns etc? Did any of them live alone and away from others?
Mexicolore replies: Good question. Well, a bit of everything. The Aztecs were mostly farmers, working land controlled by lords. In their early years their settlements were small and scattered widely across the landscape. Only a few large cities existed (eg Tenayuca) in the Basin of Mexico to begin with. As the population grew, small groups moved into the swampy backwaters of the lakes and built the earliest 'chinampas'. Later on came large numbers of people moving onto the lakeshore and building irrigation systems and terraces on the foothills. Yes, remains have been found of individual houses scattered around the landscape. Small villages and towns were also common. A good book to read on this is 'The Aztecs' (2nd. ed.) by Michael E. Smith (on our Panel of Experts).
27

At 10.20am on Monday October 22 2018, hugo farias wrote:
what kind of materials the rooftops are made for,specialy the noblish?
Mexicolore replies: 'Roofs' [of palaces and nobles' houses] were flat, made of wooden beams covered with planks, or shingles, and were frequently spread with earth to form roof gardens. Only the most distinguished men were allowed to build houses with two storeys, and it is doubtful whether the marshy subsoil of Tenochtitlan could have taken the weight of anything heavier. All over Mexico, however, the one- or two-storey building was the rule.' (From 'Everyday Life of the Aztecs' by Warwick Bray).
26

At 2.15pm on Wednesday August 29 2018, me wrote:
What were their personal possesions
25

At 10.04am on Wednesday May 2 2018, Bob V2 wrote:
Well, lets start this was an amazing website but there was a problem. The "gif" was weird.
Mexicolore replies: Sorry. It's known as a gif 'gaff'...
24

At 8.09am on Monday December 4 2017, Ian wrote:
Hi I'm wondering how long they took to make one house/hut.
Mexicolore replies: Good question. We don't know for sure, estimating around a couple of weeks. We know house-building was a collective job - i.e., families joined forces to help each other on these sorts of community tasks.
23

At 6.30am on Saturday October 7 2017, Eric wrote:
You state that small pine resin torches lit up the homes of these people. I'm curious as to what held these torches in place. I'm aware of the braziers, but I have yet to find any stationary "torch holders". Cheers.
Mexicolore replies: Good question. Here's one voice of experience (follow link in our feature on 'Pine Torch' in the Aztec artefacts section): 'In the old days people used to light their streets with a handful of ocote resin impregnated sticks interspersed with dried ribs of the organ cactus and tied in a bundle. They would attach this to a post and it would burn for two or three hours with enough light for the people to see their way'.
22

At 9.44am on Tuesday April 12 2016, Eraser ;) wrote:
Hey mexicolore this did all my work you are the best web site ever made thaaaaaaaaaanks
21

At 7.55am on Saturday March 12 2016, Nora wrote:
This websight is AMAZING it really helped me with project
:-) :-) :-) THANKS
20

At 1.58pm on Thursday February 4 2016, tamiyah wrote:
I had to a project on the aztecs this really helped me THANKS.
19

At 10.16pm on Monday December 7 2015, Milla wrote:
What aspects of their culture influenced their housing?
Mexicolore replies: Great question. We've given you a few pointers here -
http://www.mexicolore.co.uk/aztecs/ask-us/how-did-aztec-culture-influence-their-housing
18

At 8.14am on Thursday July 9 2015, Sky wrote:
What about Aztec children?
Mexicolore replies: What about them...?!
17

At 7.30pm on Sunday December 14 2014, Lema Gaunt wrote:
what were the temples and aqueducts made of? This would be very helpful I cannot find it any where else and this website seems very loaded with information!
Mexicolore replies: In terms of the aqueducts, you can find a good part of the answer in our 'Ask the Experts' section, in October 2008 -
http://www.mexicolore.co.uk/aztecs/ask-experts/where-did-the-aqueduct-go-to-from-tenochtitlan
And as for temples/pyramids, this may help too -
http://www.mexicolore.co.uk/aztecs/resources/ideas-for-exploring-temple-design (in our Resources section).
16

At 4.13pm on Wednesday April 30 2014, Aztec questioner wrote:
What was the outside of their house like? I'm talking about gardens, yard, porch, road, etc.
Thank you your website is very helpful!
Mexicolore replies: Some of this is answered above! Shared interior patio/courtyard, yes - sometimes with shared cooking facilities. Gardens - not for poor families but flowers yes, even the poorest home would have had flowers in it. The front of the house would open directly onto the local road.
15

At 4.21am on Monday March 31 2014, Gracie wrote:
I love Aztecs!!!
14

At 3.21pm on Thursday November 14 2013, Austy wrote:
How was food cooked in the kitchen? Obviosly they didn't have microwaves
Mexicolore replies: On a clay griddle in the middle (pic 1 - spot it?)
13

At 4.55pm on Sunday October 20 2013, jamie wrote:
1)where are the houses located?
2)what was the time period the houses were used
3)what interact with the environment is used to make the houses
Mexicolore replies: Aztec houses, at least in towns, were grouped together around patios, usually with extended families occupying the neighbouring houses. Aztec houses were largely used just for sleeping in - most family members were out and about during the day. As the adobe bricks were sun-dried, the only significant impact on the environment would have been the cutting of trees for wood for those parts of the house, such as the roof, not made of adobe.
12

At 5.25pm on Wednesday May 29 2013, Joan Cline wrote:
How long did the pine-knot torches burn? Can you describe them?
Mexicolore replies: We've now added a little feature on these torches to answer your excellent question! Please go to our 'Aztec Artefacts' section and click on 'Pine Torch'. The answer to your first question, BTW, appears to be around 2-3 hours...
11

At 12.45pm on Wednesday January 23 2013, Jodie Searle wrote:
Thanx for the info! it really helped!
it really helped me on my Aztec project! :-)
bye!!
10

At 5.03am on Sunday January 20 2013, Jodie Searle wrote:
Hi Mexicolore! You came to my school (Stapleford) and I really enjoyed it! Thanx!! What is the climate like in Tenochtitlan?
Mexicolore replies: Thanks for writing, Jodie. We enjoyed coming to Stapleford! Mexico City (where Tenochtitlan used to be) is quite high up, so you tend to get cool-chilly nights and warm days. There have always basically been two opposite seasons in that part of the world: a dry season and a wet season. In Aztec times the dry season was the war season and the wet season was the farming season.
9

At 8.38am on Sunday January 13 2013, Milly wrote:
What furnishings were inside the rich/ poors huts? EXPLAAIINN! ;) x
Mexicolore replies: Excellent question, Milly! In fact we're already planning a new feature on Aztec Furniture. We'll try and upload it as soon as we can......... Thanks for writing!
8

At 8.36am on Sunday January 13 2013, Milly wrote:
Thanks very much for this, it helped me in a section of my project! ;) :) :D :P Cheers!
7

At 11.00am on Tuesday January 1 2013, hadi wrote:
thank you so much almost done my project yesss
6

At 9.59am on Thursday December 6 2012, Katherine smith wrote:
It was a really good help for my homework.
5

At 3.52am on Tuesday December 4 2012, jed wrote:
what did rich houses look like
Mexicolore replies: They would probably have had two stories, be made of stone, and have been finely decorated. We have info on this in our 'Ask the Experts' section, the answer for February 2007. Here's a link to the page -
http://www.mexicolore.co.uk/index.php?one=azt&two=ask&tab=ans&id=24
4

At 8.22am on Monday December 3 2012, jed wrote:
my teacher is really
inprest thank you
3

At 8.11am on Monday December 3 2012, jed wrote:
it is really intresting
it tells you everything.
2

At 10.48am on Monday April 23 2012, Mikayla morrison wrote:
What did aztecs use for jail?
Mexicolore replies: They didn't have what we think of as 'jails'. They did keep slaves temporarily in cages before they had been sold, but ordinary folk generally paid back their dues to society by working for the people they had wronged or stolen from. Maybe we could learn from this principle even today?
1

At 10.47am on Monday April 23 2012, Mikayla Morrison wrote:
Our teacher is teaching us about diffrent sivilisations and im doing aztecs .I find that the Aztecs are so cool once you learn all about them .