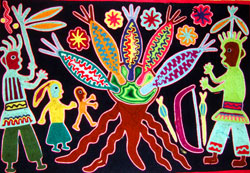 Basic Aztec facts: AZTEC FOODS
Without animals like cows, sheep and goats, the Mexica (Aztec) diet was mainly veg, fruit and grains. Top of the list was
maize (corn)

, an ancient and sacred crop that can grow almost anywhere. The early cultivation of maize by settled farmers thousands of years ago allowed all great Mesoamerican civilisations to flourish...

(Written by Ian Mursell/Mexicolore)
Pic 1: A bowl of Mexican 'pozole' stew (Click on image to enlarge)
Maize was STAPLE FOOD NO. 1. It was eaten in lots of ways, the most common being the good old tortilla - ideally fresh and warm off the clay griddle, but if not, stored and eaten later (useful for farmers, merchants, soldiers, travellers...) Then there was corn on the cob, a corn soup or stew called pozole (pic 1), atole (a thin gruel of fine maize flour in water flavoured with chilis, fruit, honey or cactus sap syrup... But oldest of all were -
Pic 2: An Aztec woman bearing tamales, and the real thing... (Click on image to enlarge)
- tamales (pic 2), Mexico's (and the world's?) original pack lunch: maize dough shaped into balls, often with beans, chiles or meat in the centre, wrapped up in maize leaves and steamed in a large clay pot. Carry them with you anywhere, then just... unwrap and enjoy!
Pic 3: Mr Little Bean and Mr Big Bean eye up the bean stores! (Click on image to enlarge)
STAPLE FOOD NO. 2 - and served at every meal - were beans. Somehow, over thousands of years, ancient Mexicans learned that the combination of beans and lime-soaked maize provided a complete protein source (to rival our animal sources). 'I told you so!' says Sir Little Bean and Sir Big Bean [their real names!] in this codex picture (pic 3).
Pic 4: Squash: Aztec stone sculpture, and the real thing - not that easy to tell the difference, eh?! (Click on image to enlarge)
STAPLE FOOD NO. 3 would be squash (think pumpkin) (pic 4) - grown in Mesoamerica for almost 10,000 years. And JOINT NO. 4 would be seeds of chía grain (think sage) and the amaranth plant - ground on the metate stone and eaten in several ways (bottom line - porridge); amaranth dough was shaped into small god figurines and eaten on ritual occasions.
Pic 5: Feast day, Aztec style (Click on image to enlarge)
Then come a whole host of good foods: tomatoes, avocados, chillies, prickly pear cactus fruit, maguey cactus sap, edible flowers, honey, mushrooms; from the lowlands came pineapple, papaya and other exotic fruits, sweet potatoes, vanilla, and cacao (chocolate)...
Pic 6: Dog and turkey: just about the only domesticated creatures - and good sources of meat (Click on image to enlarge)
The Mexica did have some sources of animal meat: mainly dogs, turkeys (for eggs too!) and ducks; and they hunted wild game - from deer, rabbits, hares, armadillos and wild boars to opossums, gophers, iguanas and tapirs. Mind you, most people lived on or near a lake, giving plenty of -
Pic 7: Frogs, tadpoles and toads: just a few of the many tasty snacks - often wrapped up in your tamales! (Click on image to enlarge)
fish! and insects! Everything from mollusks, turtles, salamanders, frogs, crustaceans, shrimps, mole lizards and water bugs of all kinds to tasty and high protein ants, grasshoppers, maguey worms and spirulina (algae that were 'creamed' off the lake water surface and made into super high-protein cheese-like loaves).
Pic 8: This codex image shows the head of a sacrificial quail on the earth: it was a bird associated with the earth and fertility (Click on image to enlarge)
Finally, the Mexica ate over 30 different species of birds: after turkeys and ducks came geese, cranes, pelicans, pheasants, partridges, pigeons, and a real favourite for nobles - quails (pic 8).
Pic 9: Aztecs feasting, Florentine Codex (Click on image to enlarge)
You might be thinking 'Wow, the Aztecs must have had a pretty rich diet!' What we haven't mentioned is that most ordinary Aztecs could only afford/get their hands on a few of what's listed above, very rarely eating meat, for a start. Though maize was generally harvested most of the year round, famines were common, causing widespread suffering.

Q. What did the store keeper say to Sir Little Bean, jumping up and down, when he saw him approach the store?
A. You're in luck, we're full of beans today!
The Aztecs would place one chia seed on each of the three hearth stones at the centre of the home every day, as an offering to the gods. Then they raised a toast to the gods, saying: 'Three Chías!'
---
---
---

Here's what others have said:
6

At 6.44pm on Wednesday November 18 2020, Zi Rock wrote:
Did the types of food they eat change between the seasons?
Mexicolore replies: Not significantly, as maize (corn) was harvested several times a year. Having said that, there was always a 'lean' time of year, around June/July (end of the dry season) when food was scarce, and they had to scrounge around for whatever they could find. What DID change with the seasons was (migratory) birds. Jacques Soustelle writes: 'In the 16th century the people still drew a considerable share of their food from these birds, which, at given seasons, arrived in hosts to settle on the water and make their nests in the reeds and the rushes.'
5

At 6.09pm on Monday October 19 2020, Jack wrote:
Did they hunt?
Mexicolore replies: Yes! Deer, peccary, rabbit, armadillo, hare, coyote, gopher, iguana lizard, wild guinea pig, waterfowl and birds of all kinds...
4

At 1.47pm on Tuesday September 15 2020, Noah Stephens wrote:
Did the Aztecs deliver the food in carts or haul them in anther way?
Mexicolore replies: They didn't have wheeled carts, so everything had to be carried on men's backs, using 'tumplines' (large carrying baskets strapped round the forehead). For more info, follow -
https://www.mexicolore.co.uk/aztecs/artefacts/carrying-frame.
3

At 12.20pm on Friday September 29 2017, My life wrote:
This is a amazing site I would love to learn more about Aztecs and I think it's amazing
2

At 9.26pm on Saturday February 18 2017, Lasse wrote:
Hi. Very interesting site! Who made the food? Was is only women? Housewives? Or perhaps trained chefs? How did you learn to cook when you was an Aztec?
Mexicolore replies: It was women who prepared food, and taught their daughters to do the same. Women played a crucial role in catering on a massive scale for the Aztec army...
1

At 12.50am on Thursday January 5 2017, Billy Bob wrote:
Your JOkes are Cringy
Mexicolore replies: Your face is cringy!