What makes us ANGRY about 'The Angry Aztecs'!
'The Angry Aztecs' (1997) - 16th in the 'Horrible Histories' series of history books for kids by Terry Deary - may be good for a laugh, but it's very much at the Aztecs' expense. You've probably already read this little book; we think the idea ('history with the nasty bits left in') is great, but we waste LOADS of time putting right its errors. Here are just a few...
(Page numbers are from the original 1997 paperback edition)

.

(Written/compiled by Ian Mursell/Mexicolore)



Pic 1: What, no wheels?! (Click on image to enlarge)
• The world will end on December 22nd. 2012 (p8). It won't! It's just the end of an important calendar cycle.
• The Maya lived in South America (p8). They didn't, they lived in what is today Mexico and Central America.
• The ancient Mexicans didn't have wheels (p8). Oh no? What are these then (Pic 1)?
Pic 2: Every Aztec child was called 'a precious jewel' (Click on image to enlarge)
• The Aztecs were 'cruel to kids' (p72), they sacrificed 'dozens' of (captured slave) children every year, 'the sacrifice table' was an Aztec punishment for children (p73): in fact 'it makes you wonder how there's any children left the rate these Aztec sacrifice them!' (p67). Even the Spanish were impressed by how loving Aztec parents were, the only children they sacrificed were those unlucky enough to be born on one of the 5 'useless' days each year, and sacrifice was NOT a punishment for children.
Pic 3: The Aztecs/Mexica had 2 main calendars, one based on the sun, one based on the moon (Click on image to enlarge)
• The Aztecs had a calendar of 365 days and no leap years (p62). They knew all about leap years and their calendar was far more accurate than the European one at the time.
• Children's names were linked to '20 days and 18 months', but 'the months could have embarrassing names' (p74). Deary's knickers are in a twist: names were based on the ritual calendar of 13 cycles of 20 days - and what's so 'embarrassing' about DOG, JAGUAR, FLOWER, RAIN, FLINT, EAGLE, HOUSE...?
Pic 4: Throwing broken household items into Lake Texcoco at night in the New Fire Ceremony (Click on image to enlarge)
• Street sweepers were usually captives (p62). They weren't: the city's local authorities employed 1,000 male citizens of Tenochtitlan to sweep and wash the streets every day.
• 'Lake scum' was eaten by 'the Aztecs of Teotihuacan', and the lake 'became polluted with chemicals used to make whitewash' (p57). For a start, he should have said Tenochtitlan; more importantly, the Mexica kept Lake Texcoco clean and highly organic, recycling poo as fertilizer and never polluting it. The only time they wastefully threw things into the lake was for their New Fire Ceremony - once every 52 years!!! (Pic 4).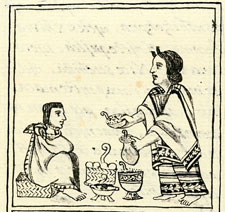 Pic 5: An Aztec woman prepares a flower-seeds-based medicine for her husband (Click on image to enlarge)
• Women were 'not very well treated in the Aztec world' (p93). Funny, because the ONLY good thing Deary admits about the Aztecs (p75) is that they were the only ones in the world at the time to send all boys AND GIRLS to school! Yes, it was a man's world, but Mexica women could keep their own property, do business, and go in for certain really high-prestige jobs, like priestess, healer, midwife...
Pic 6: The Voladores ceremony is still performed today! (Click on image to enlarge)
• It's 'probably not true' that the Spaniards murdered Moctezuma (p111), because 'people who wrote that weren't there at the time'. Funny, 'cos others who WERE there at the time said they did...
• The Voladores (Flyers) Ceremony was meaningless: 'Result, nothing, just a sort of Aztec team-bungee-jump' (p92). This very special ceremony was linked to the sacred calendar and to the descent to earth of warrior spirits returning as birds and butterflies.
Pic 7: There were very clear and fixed rules for the ancient ballgame (Click on image to enlarge)
In the ritual ballgame, they used flat stones 'to show the score' (p88) No they didn't!; teams were of 'about 10 a side' No they weren't - MAXIMUM 7 players per side!; skullracks held the heads of victims 'watching the game' (p88) No spectators were sacrificed!; players 'pass the ball among themselves till they are in a position to score' (p89) No, the whole idea was to bounce the ball off your OPPONENTS in order to score; players were often killed during a game - 'there were no rules to stop you killing an opponent' (p89) Yes there were, very clear rules for the game, and any sacrifices would have taken place AFTER the match.
Pic 8: The Aztecs grew and recorded THOUSANDS of plants and their uses! (Click on image to enlarge)
• Aztec cures: 'the useless ones don't work and the working ones could kill the patient' (p94) Funny, 'cos even the Spanish admitted that Mexica medicine was way ahead of the European equivalent... One Spaniard wrote that Aztec doctors had 'so much experience that they were able to heal Spaniards, who had long suffered from chronic and serious diseases.' And the Aztecs probably created the world's first botanical gardens!
Pic 9: Human sacrifice was performed to please the gods, NOT out of pleasure or cruelty... (Click on image to enlarge)
• (HERE WE GO!) The Aztecs sacrificed 50,000 people per year (1 every 10 minutes!), 20,000 'in a single party' (p48), there were 136,000 skulls on the main skull rack (p109), Aztec warriors were 'happy to eat dead enemies' (p87), bodies would be 'kicked down the steps to butchers below' (p114) and the Aztecs 'began to enjoy the cruelty' (p124).
Even Hernán Cortés reckoned the Mexica sacrificed 3,000 per year! What size rack could fit 136,000 skulls?!?!
We all know the Spanish went bananas exaggerating the numbers, and blimey the Spanish can talk about cruelty - just look at what went on in the Inquisition...! Yes, they did sacrifices, but oh deary, get your numbers right, for Tonatiuh's sake!
---

Here's what others have said:
19

At 10.12am on Monday September 12 2016, Jude wrote:
Hello, your very judge mental and my mother told me that you need to forgive and forget. YOUR THE OPPOSITE!
Mexicolore replies: Well of course you're right, and we must bow to your superior knowledge. But always remember to call a spade a spade: if, as you get older, you come across something that's wrong, don't be afraid to say so. Stick up for what's right!
18

At 10.01am on Monday September 12 2016, Jude wrote:
Why do you always have to bash on everything?
Mexicolore replies: 'Always'?! You're funny! And anyway, bashing is good for you. What would the world be like without bashed potatoes...
17

At 4.34am on Tuesday August 16 2016, William wrote:
come on people I bet most of you guys didn't know that any of this stuff was wrong until you read the article. It's not like you wrote a book so as jack Hibbard said
COOL IT!
16

At 9.55pm on Saturday December 5 2015, Gbm wrote:
But is it not highly possible that it indeed was the aztecs that killed Moctezuma II?
I did some reading on it today, and I learned that the aztec ruling was based on a system were the aztecs could revolt against the tlatoani, if he should show himself as weak and unfit for ruling. If I recall correctly, then after the massacre at the festival of tóxcatl, the spaniards send Moctezuma to try and appeal to the masses. The aztecs, furious with Moctezuma, then stoned him to death, and chose his brother as the new tlatoani. I think this is along the line of what Wikipedia said. Though maybe it was not after the festival, but later. Anyways, if you get caught up in the mood of the history, It becomes obvious, and makes a lot of sense why the aztecs deemed Moctezuma unfit for leadership. He was too much of an enabler for the spanish. He did wrong in trusting them, and continued to do so, even after the massacre.
So is it not highly possible that it was the aztecs that killed him?
Mexicolore replies: Of course it's possible, Gustav, but the evidence points to the Spanish doing away with Moctezuma. There's an image of him being throttled with rope by Spanish soldiers as he's pulled back from the parapets of the palace - please see the detailed 3-part article 'The Death of Moctezuma' in our Moctezuma section...
15

At 7.28am on Wednesday September 16 2015, Jack Hibbard wrote:
I think everyone should cool it as I believe the book was also written humorously and was not meant to be a boring history book (Encyclopedias, etc etc)
14

At 2.23pm on Thursday May 21 2015, skylar wrote:
it was interesting but vaaaaarrryy wrong
13

At 4.09am on Monday August 5 2013, Zoe Saadia wrote:
Loved this article! Great analyza of every wrong point. We need more of those refuting articles for all kind of pre-hispanic-related literature out there.
12

At 7.19am on Sunday July 14 2013, Katia H wrote:
That's kinda ironic that y'all didn't care for this book. The Angry Aztecs is actually the first book that got me interested in the Aztecs when I was around 9 years old. Also ironic that a kid from Texas found out about the Aztecs ("next door" to my state in Mexico) from a British book!
Mexicolore replies: Thanks, Katia. OK, he's exonerated! You're right, this is certainly ironic: yours is a rare good news story about this book that we're happy to read about. You continue to send us really mature and thought-provoking feedback to the Mexicolore site, and for that we'll always be grateful to Terry Deary.
11

At 11.13am on Wednesday July 3 2013, carlos wrote:
btw, with wheels thing, i think he meant they onlyused them with toys
Mexicolore replies: Bet you any money you like he didn't!
10

At 11.11am on Monday May 7 2012, aztecdude wrote:
you are sooo right
9

At 2.04am on Wednesday January 4 2012, hood wrote:
i never read that book and it makes me angry how ignorant that book is and how some people actually believe what that book says about my people thank god for your website
8

At 5.26am on Tuesday November 1 2011, carlos wrote:
he is right,your are wrong. other HH books and the tv show(both of them) have sympathy for the aztecs, SO READ THEM INSTEAD!!!!!!!
Mexicolore replies: That sounds good news. Relax, open a can of beans, keep your hat on!
7

At 4.04am on Wednesday June 1 2011, carlos wrote:
well the names may not embarrising but U WOULDNT LIKE 2 HAVE THEM!
6

At 5.48am on Sunday May 22 2011, carlos wrote:
you just like the aztecs, WELL THIS BOOK IS SUPPOSED MAKE YOU LOATHE THEM! YOU'VE GOT YOUR FACTS WRONG! TERRY DEARY IS STABBING HIMSELF IN THE STOMACH WITH A RUSTY BANNANA SINCE YOU SAID HE GOT IT WRONG!
5

At 10.10pm on Thursday May 19 2011, Alan wrote:
this dude is TERRIBLE at writing history-based books
4

At 2.20pm on Monday November 1 2010, Alice wrote:
Your right. I like Terrys books but he could try and use some facts!!!!!
3

At 12.29pm on Tuesday June 15 2010, las vegas wrote:
You're SOOOOOOOOOOOOOOO wrong, I love Terry's books
2

At 11.59am on Tuesday May 25 2010, lauren wrote:
You are sooo right about that. I red it, andsaid most the things in there are wrong and im only 11!!
1

At 8.59pm on Tuesday May 4 2010, sully wrote:
the person who wrote the font in red was right because first all those facts are wrong i dont want to be cruel but GET YOUR FACTS RIGHT! if you arent writing or doing anything correct dont do it at all!