Question for March 2015
Have any ancient rubber balls been found? Asked by Chalfont St. Giles Junior School. Chosen and answered by Professor Susan D. Gillespie.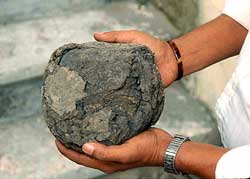 Pic 1: Ancient rubber ball from El Manatí, Veracruz (Click on image to enlarge)
Nineteen rubber balls were found at El Manatí, Veracruz, excavated by Mexican archaeologists Ponciano Ortiz and María del Carmen Rodríguez. El Manatí is located within Olmec heartland, home to the "Rubber People" as the Aztecs named the inhabitants of the Gulf coastal plain. It is near the major regional capital of San Lorenzo. El Manatí was once a spring, and Olmec peoples deposited objects in the waters as part of ritual practices. These include jadeite beads and celts, and carved wooden busts in the Olmec style, along with the rubber balls. The waterlogged environment preserved the wooden and rubber objects. They date to about 1000 BC. The (solid) rubber balls still had a faint smell of latex rubber 3000 years after being deposited.

NOTE: Professor Gillespie and her husband were in Veracruz when the first two rubber balls were being processed for curation and had the opportunity to hold and photograph them! - see pic 1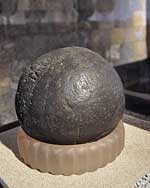 Pic 2: Pre-Hispanic solid rubber ball from southern Sinaloa; approx 20 cms (diameter), 3 kgs (weight). National Museum of Anthropology, Mexico City (Click on image to enlarge)
Fellow Panellist Dra. Laura Filloy Nadal adds:-

The discovery of rubber artifacts is one of the most unusual events in Mesoamerican archaeology. This fact is due to the great vulnerability of this material in the face of all agents of deterioration. From the very moment of its production, a rubber object undergoes rapid structural transformations that affect its color, shape, size, and weight. In general, these processes accelerate when artifacts are placed in an archaeological context, leading to their total destruction. Nevertheless, some examples of rubber balls have been found in the last decade; Mesoamerican artifacts made of rubber known today come from contexts flooded in freshwater. We refer specifically to the discoveries made in the Sacred Cenote at Chichén Itzá, a Maya site located in the northern peninsula of Yucatán; in the spring of El Manatí, an Olmec site in southern Veracruz; and in the flooded offerings in Tenochtitlan, the capital of the Aztecs that today lies buried under densely populated Mexico City.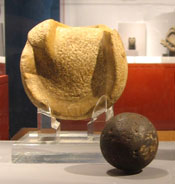 Pic 3: A solid rubber ball used (or similar to those used) in the Mesoamerican ballgame, 300 BCE to 250 CE, Kaminaljuyu, Guatemala (Click on image to enlarge)
Fellow Panellist Dr. Eric Taladoire adds:-

We must first remember that rubber was not only used to make balls. It also served for offerings, for instance. So that any discovered rubber fragments do not systematically correspond to ballgame balls. Besides, rubber is perishable material, only preserved in specific circumstances. This explains why the discovery of rubber balls is rare, and only in very dry or very humid conditions. Up to now, only five cases are known, to my knowledge. In a marsh in southern Veracruz, at El Manatí, several big rubber balls were excavated several years ago. More recently, in the Aztec Great Temple, in Mexico City, other rubber balls were discovered in the phreatic level [below the water table]. In both cases, the balls were far too big to have been used in the game. They probably served other purposes. On the other hand, in the American Southwest, a very arid region, where the game existed, two small balls were discovered at the beginning of the XXth century. Both are now preserved in museums, one in the USA, the other in France. Lastly, the present excavations in Teotihuacan, in the tunnel below the Quetzalcoatl Pyramid, recently disclosed several rubber balls. Some of them are large, others rather small. Those last ones might have been used in the game. Those discoveries have led to scientific studies proving the sophisticated level of rubber manufacture in Mesoamerica.
Photos:-
• Pic 1: photograph by, © and courtesy of David C. Grove
• Pic 2: photo by Ian Mursell/Mexicolore
• Pic 3: photo from Wikipedia (Mesoamerican rubber balls).
Professor Susan D. Gillespie has answered 3 questions altogether:
---
---
---
---